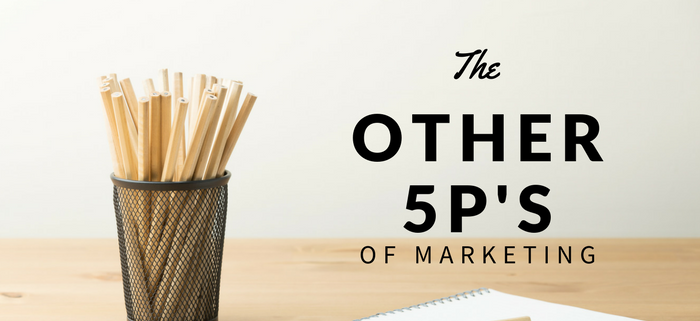 If your business or organisation is struggling to achieve good (any) ROI on your marketing spend, or is challenged by the task of building a strong, positive and enduring brand profile with your community or stakeholders, you may be unconsciously omitting a very fundamental and important component to your approach.
Many readers will be familiar with the traditional 4Ps of marketing introduced by E. Jerome McCarthy in the 1960s (Product, Place, Price, Promotion), as well as the evolution to the 7Ps in the early 1980s to include People, Process and Physical Environment.
Whether you are a small/medium business, a government agency or not for profit organisation, there is another set of marketing 'Ps' that are essential for marketing and communications success.
I like to call these … 'The Other 5Ps of Marketing'.
Are you ready? … this is pretty huge … the 'other', game changing 5Ps of marketing are …
PRIOR PREPARATION PREVENTS POOR PERFORMANCE.
(some of you may be familiar with an extension of this statement that incorporates a sixth P between 'prevents' and 'poor', but I won't go there here).
After more than 20 years working in marketing and marketing communications, I am here to tell you that if you are not implementing the 'other 5Ps of marketing', you may as well hand your marketing and comms budget to a stranger on the street (or in a commercial environment, hand it directly to your competitors).
The 'prior preparation' I'm talking about comes in the form of a documented marketing communications plan.
A marketing communications plan isn't a line item on a budget spreadsheet that says '10% of revenue = marketing spend'. A marketing plan isn't a couple of statements that say 'TV advertising from Jan to Dec' or 'implement bi-weekly Facebook posts'.
A marketing plan is aligned to your organisation objectives and defines the why, the who, the what, the how and the when of marketing activities, designed to achieve your business goals (as well as how you intend to measure the effectiveness of the plan).
Here's just a few things to consider as part of your prior preparation (aka your marketing plan) …
1.   What is your objective?
This is the part about aligning your marketing activities with your organisation objectives. Each activity (and the sum of all activities) MUST play a role in moving you closer to achieving your organisation goals. And what are those goals? Is it to generate new business with existing customers? Is it to drive growth in new markets? Is it to differentiate yourself from a multitude of local competitors? If you are not clear on what you are trying to achieve, don't do it.
2.   Who is/are your target segments?
At a superficial level, you may think this is pretty obvious. But defining your target audience and then deeply understanding their needs, their pain points and determining what action you want them to take or what you want them to know and believe, is REALLY important! Consider: customers versus prospects, long term clients versus transactional customers, stakeholders and partners, industry segments, differing job titles within one organisation, organisation size, current awareness levels of your organisation or offering, and buying stage cycle. You'll want to market to all of these 'customer segments in different ways – different tools, different messages and with different objectives.
3.   What's your unique value proposition?
What value are you delivering your customers/stakeholders? What problem are you solving? And how are you doing it in a way that is better than your competition (if applicable)? Are you clear on the message that will achieve the desired response/action?
4.   What do you want to be famous for?
What are the first 3 words you want to pop into the minds of your customers/stakeholders when they hear your name or see your logo? Is it innovative? Reliable? Approachable? Quality? The tone of your communications, your key messages, the photo's you use, the stories you choose to post or blog about are defining and influencing your brand perception every day! Have you defined your brand values and therefore the brand perceptions you intentionally want to shape in the minds of your customers and stakeholders?
5.   Take them on a journey
I suspect any of my former IBM colleagues reading this will be chuckling and rolling their eyes right now! You can't do something once and expect it to work. What role does one marketing activity play within your overall marketing strategy and how does one activity lead into the next? I'm afraid to think about the small fortune that has been wasted by organisations spending hard earned funds on one-off marketing activities only to see them fail.
6.   Measures of success
Perhaps worse than spending money on one-off activities only to see them fail, is spending money on activities and not knowing if they failed – or worked.
If your marketing activities are designed to deliver to your organisation goals, make sure you are clear on what are you trying to achieve with the activity (what action or response you are you driving?) and put in place mechanisms for monitoring and measuring those objectives. This is much easier said than done and requires thought and consideration … but refer point 5 … it's unlikely you'll generate a spike in sales from your first activity … set realistic objectives and practical ways to measure results.
7.   Develop a schedule … and stick to it.
The last point I want to make about the importance of the 'other' 5Ps is around keeping yourself accountable to your plan. It goes without saying that the most amazing, well thought out and technically perfect marketing plans are useless if you don't actually follow through with implementation. Develop a realistic, implementable schedule that fits with your resources and budget, and stick to it. Set up a regular review meeting or reporting mechanism with someone in your team to keep you accountable to the plan. The questions you need them to ask you are simple – 'have you done what you said you'd do?' and 'what were the results?'.
So the next time you are posting or advertising on Facebook, buying advertising space, taking out a sponsorship, building a website, sending a customer newsletter, developing a media release … or whatever marketing or communications activity you are doing … ask yourself, have I implemented the Other 5Ps of Marketing?
Michelle Hudson is an experienced, passionate and creative marketing and communications consultant with more than 20 years industry experience. Michelle is the Director of The Communications Dept, a marketing, communications and brand consultancy based in the vibrant Albury/Wodonga region.